Hey Real Estate Investor, want a slice of...
This $6 TRILLION (and Growing) Niche?
Tim Randle of REIClub.com here with a very interesting, low competition, real estate niche for your consideration. Take 3 minutes to consider if it's right for you…
Know anything about probate?
Ever been through one?
Do you know it may be the most lucrative source of real estate deals?

Probate, plain and simple, is the legal process of settling the debts and distributing the assets of a deceased person.
No will – probate required. Will – probate required.
The only way to avoid probate is by putting your assets in Trusts. (And you really, really, really should do that. Saves lots of time and money. Most people don't though).

Here are some facts you should know:

(Side note: You won't need to become a lawyer, or even deal with lawyers to work this market)
Homeownership facts:
81% of 65+ year olds own homes
19% of 65+ year olds own a second home
72% of 65+ year olds own their home free and clear, i.e., no mortgage
TAKE AWAY
: About 80% of people 65+ years old own real estate and nearly three in four (72%) own it free and clear.
Probate facts:
Over 2 million new probates cases open every year (that number has been on the rise since 2000)
90% of all probate cases involve disposition of property owned by people 60+ years old
The first wave of Baby Boomers turned 60 between 2000 and 2010
There will be a 38% increase in the 60+ population between 2011 and 2020
50-60% of probate cases involve some real estate
TAKE AWAY
: Probates are increasing significantly because the over 60 population is increasing significantly.
Probate versus Pre-Foreclosure / Short Sale
Market:
Probate – 3 - 3.6 million properties a year and rising.
(data from American Association of Retired Persons (AARP) study)

Foreclosure – 2.9 million properties received foreclosure filings in 2010. Foreclosures are now trending down, December, 2010 was the lowest number in 30 months.
(data from RealtyTrac)
Competition:
Probate – Do you know ANYONE working this niche? Is the market flooded with gurus? I just searched "probate real estate course" on Google – 1,210,000 results.


Foreclosure
– Do you know anyone NOT talking about foreclosures… water cooler chat, popular press and political stump speeches. And the Google test – 39,600,000 results. That's 32.7 foreclosure results for every 1 probate result. That's like comparing California and Rhode Island.

Seller Motivation:
Probate – The seller(s) in a probate case are heirs. They just inherited a vacant house that's a burden – property taxes, insurance, upkeep, possibly vandalism and maybe a mortgage. Frequently they don't even live nearby so tending to any on-site issues is a real hassle. They're very motivated to convert that property to cash, which to them is found money.

Foreclosure – Homeowners are not motivated to leave. They're often hanging on or at best, not cooperative. They're attached to the property, they've put money it, they may be attached to the location, might have kids in school, and often, they don't have somewhere as nice to go. There's also the lender to deal with. Short sales and foreclosures can be antagonistic and drag on.

TAKE AWAY: The Probate niche is a bigger market (and growing), with significantly less competition and much more motivated sellers.
Bottom line:
With probates you have motivated sellers with nothing to lose. They're willing to sell the property for 30-50% below market value to someone who will take it off their hands.

What can you do with a sharply discounted property? You can...
- Wholesale it
- Retail it
- Buy and hold it in your rental portfolio

The important part is you acquire it at a significant discount.
Are You Interested Now?
This is what I have for you...
... Three interviews with Probate experts. Guys who stumbled onto this market years ago and have been quietly milking it... through the go-go years and the hard times years, they keep humming along. And they never run out of deals in this market.

None of them are lawyers. Average guys who reveal exactly how they work this market.

Grab these three how-to interviews and work this proven (and growing) market in your own back yard and profit...
Probate Expert #1: Pulled Out Of Retirement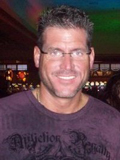 Eric Stevens was a retired seasoned Real Estate Investor but an ad for a free seminar about getting properties at 30-50% below market caught his attention. That seminar was about probate investing. He found the strategy so appealing he signed up for a 3-day training, then partnered up with a fellow student.

Eric and his partner have been acquiring probate properties for 5 years. Some they sell for an average of $25,000 profit. Some they hold and rent with, on average, $300/month positive cash flow.
Eric will school you on:
Start your search here
Instead of paying for a skip trace, use this free source
This simple letter sequence works best
What to do after the third contact to increase response
The psychological advantage of making an offer before inspecting the property
The four clauses to add to the contract
Get this person involved for free before paying for any inspections

"I always knew that inheritance situations can often be good leads, but I only came across them randomly as I went about calling and mailing FSBOs, expired listings, absentee owners, etc. The probate investing interviews I recently ordered from REIClub taught me how to isolate probate leads from all the rest. After reading the first of three interviews, I was equipped with enough information to know what public records I needed. After doing some digging, I found them the same day, and started building a mailing list. I anticipate probate becoming a permanent prospecting method for my business. There are so many probate leads in my area that I'll be hiring someone to gather them for me. I look forward to getting a higher percentage of calls from sellers whose free & clear real estate is an inconvenience to them.

These interviews are great for someone who generally understands the full real estate investment process and is looking to find more creative & effective prospecting methods. Someone new to real estate will definitely learn interesting, useful things from the Probate Investing interviews, but will need to find additional guidance in other areas of the business...such as evaluating properties physically and financially, writing contracts, managing rentals, etc. "

Mark Baskervill
Baltimore, MD


"I recently ordered the probate interviews where Tim Randle interviews three experts on probate, Eric Stevens, Ernie Vargas, and Ron Mead. All three of these gentlemen really knew probate well and they all gave a little background information on themselves. It was comforting to know that all three of them had similar advice, in that the information they shared did not contradict any of the others. Each of them, of course, had their own strategies to getting deals done in probate though. My business in real estate has advanced because of the information I learned about the personal representatives, how to work smarter and not harder, and how to contact the personal representatives.

There was plenty of information given in these interviews. Although Eric, Ernie, and Ron cannot go out and do deals for me, they gave me many of the tools necessary to do deals myself. I must also include that Tim Randle asked very appropriate questions, usually the ones I had on my mind as the interviewee was speaking. There are always questions that remain after listening to interviews, but the questions I now have are far more specific than before I listened to the interviews. I personally had seen Eric Stevens speak before and his obvious intelligence shines through in these interviews as well. He is full of facts and advice. It was nice hearing Ernie Vargas and his methods because here in CA it can be difficult to follow the excessive regulations. Ernie Vargas shed some light on some unknown aspects of the court filings. Ron Mead was great as well with his animated character and down to earth advice. "

Andrew Shell
Yorba Linda, CA


"I have just purchased the probate investing interviews. They came at a good time because my wife and I have been talking about trying to crack the Probate Real Estate market. The three investors: Ron Mead, Ernie Vargas and Eric Stevens all seem like proficient probate investors and their stories, while somewhat different, all have value.

If you are an investor you can glean enough information to actually get started; which is unusual from a short presentation. I have been to the court house and haven't had to much trouble finding and navigating through the probate files. Now the fun part, contacting the executors, begins. Thanks for asking the important questions."

Tom Harrison
McHenry, IL

Probate Expert #2: Started In Foreclosures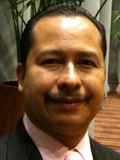 Ernie Vargas started his investment career in foreclosures… knocking on doors. When he stumbled on a vacant house a neighbor told him it was in probate. Ernie knew vacant house often means motivated seller and researched the probate process.

He found probate properties a much easier strategy than foreclosures and has been working the probate market for the last 10 years. He currently has two other partners and a small outsource team to cover Los Angeles County.

Ernie both wholesales (with a $10,000-20,000 profit) and retails (with a $75,000-80,000 profit) properties.
Ernie will share with you...
Why you want to pay a researcher based on this
Only look at these kind of files
Look out for this kind of mortgage
The quick and easy low offer / wholesale strategy
Build three lists
How to find the best wholesale buyers
Why you want to use a simple contract and not the standard Realtor contract
Add this one clause to your contract

"As someone who has some familiarity with Probate investing I think the interviews gave a fairly comprehensive overview of the processes one would need to undertake to work this particular niche area of Real Estate. Even though much of the information on the interviews were redundant it was still valuable to hear how each individual investor had a somewhat different method of working different aspects of the business based on their personalities and experiences. One thing I found really refreshing was their openness regarding the ratios involved to get an offer accepted. Although the reality of Real Estate investing is that it is a numbers game and most of your offers will never be accepted it is still a point that can never be reiterated enough, especially for new investors!

I plan on using some of the information I learned to save me time on the research side. The one tip regarding "Full Authority" files I believe will be an enormous time saver for me! The only thing really lacking was some of the specifics contained in their letters or marketing materials, but of course, an interview is not the appropriate format to be able to transmit that type of knowledge. Obviously, if you want to gain access to their marketing and lead generation materials you will need to actually purchase their individual courses or enroll in their mentoring programs."

Michael J. Courcelle
Plant City, FL


"I was interested in adding a probate campaign to my wholesaling business but had zero experience in the niche. Luckily I came across these Probate Interviews and because of the price and the fact that there were THREE different investors being interviewed I thought it would be a great place to start.

The interviews are enjoyable and do a terrific job of simplifying the process and highlighting the key aspects of probate investing. A week after I purchased the interviews I had a nice campaign set up and running. Probate investing is a great way to help people in need and also to grow your business."

Russell Ponce
North Bay Area, CA

Probate Expert #3: Must Be Other People Like Me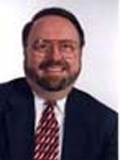 When Ron Mead's Mom died, he inherited the house… a 5 hour drive away. While driving back from one of his numerous trips there to oversee the house, get things fixed, find a Realtor to list it and get it sold, the thought occurred to him: If a private investor had offered to buy that house from him at a discount… and save him the enormous amount of time and hassle taking care of it himself, he would have been delighted to sell.

His next thought… I can be the private investor that does that for people in my local area. So he did.

Ron and his wife work their local Portland Oregon area. They prefer to wholesale and average about $20,000 a deal.

Ron has also written a popular book on probate investing: "31 Days To Profits In Probate Investing".
Listen in to learn...
The four-step lead process all done without ever leaving home
Contact sequence – who, when, how, how often
How to never get emotionally involved
Do this if you only have the lawyers address
How to turn multiple heirs into an advantage

"The three interviews on Probate investing by Eric Stevens, Ernie Vargas and Ron Mead gave a great overview of the probate niche for profitable real estate investing. I was impressed with the profit potential, and how there is less competition in this arena. Each speaker told how they researched the probate leads in the court house, sent letters to the personal representative of the estate and got great response rates. They were then able to negotiate the buy houses at a steep discount. Listening to these audios helped me to plan my strategy to generate probate leads and negotiate more profitable real estate investing deals."

Vicky Love
Southfield, MI


"After listening to the probate interviews, I feel confident that I can avoid many mistakes I might otherwise have made and benefit from their years of experience. I also appreciate the willingness to be of assistance that each of the interviewees expressed. I believe that being a part of the real estate investor community is going to be a great career move."

Eddie Baker
North Richland Hills, TX

These strategy and tactic-dense interviews from experts with solid track records will come to you in a 3-CD set... listen from your computer, your car, your portable mp3 player or wherever.

If you haven't heard my interviews before, let me assure you, they're not the typical lite-on-content, heavy-on-pitch. In fact, there's no pitch at all. They're pause and rewind, detail-dense, real-world lessons.

I carefully prepare for each interview. I probe deep on the important aspects and keep each guest focused and on track. The quality of the content is as good or better than private seminars.

But it won't cost you seminar prices.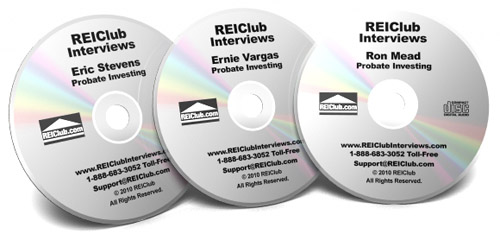 "Probate Interviews"
100% Ironclad Money Back Guarantee

I"m so confident that you will love this powerful real estate investing information that I"m willing to bear 100% of the risk for the next 30 days. That means that you can get in now plus get all the bonuses RISK FREE and give it a shot for 30 days. If you aren"t happy for any reason simply let us know and I"ll immediately cancel your order and I"ll even let you keep all the bonuses as my way of saying thank you!




But Wait! Let Me Make This Even Easier For You!
Order Right Now And You Receive All These Extra Bonuses...
Yours Absolutely Free!
Complete Transcripts of All Interviews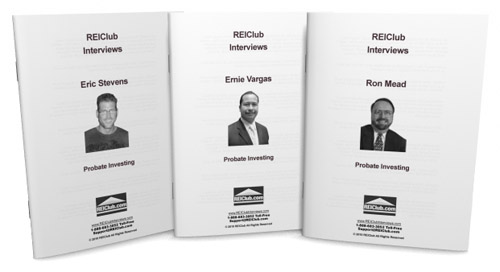 Here's a secret that's guaranteed to give you the mind of a Real Estate genius:

Some people learn best with audio. That's no secret.
Some learn best visually. That's no secret.
But the most powerful way to make something second nature, to fully integrate powerful, profit-making ideas into your brain, so you can recall them on command, is to use multiple senses to digest the information.

Was there a part that wasn't quite clear...
Want the EXACT wording of a script or power persuasion phrase...
Want to jump to a part for quick review...

You'll have the transcripts to read along with, scan and skip through, study and markup with notes to easily review when you need that clarification or re-introduction.

THAT'S why I went through the extra time and expense of having each interview professionally transcribed.
And...
Interview Nuggets
Focus, they say, is like a laser beam. Each interview has a handful of critical points. I've pulled them out for you and had them printed separately so you can easily grasp and review them at any time.

These little cheat sheets reveal the most important focus points from each expert. Read over them before listening to the interview to prepare your attention and again after the interview to cement those important points in your memory.
And...
FREE Trial Membership in REIClub Pro
You get complete access for one full month to the deepest - and growing - Real Estate Investing library available today. REIClub Pro has over 140 multi-media trainings available on every Real Estate Investment topic imaginable. Plus a full array of forms and resources to guide you through business building and real estate transactions.

I pay your dues for this state-of-the-art wealth building University the first month where you can get a professional education that could mean tens of thousands of dollars for your business!

And if you find out you can't live without it - as so many others feel - you'll simply invest a modest $39.95 per month to keep it coming non-stop. New content is added monthly.

The first month is on me. You can cancel any time, without obligation. But I can't say that many do - this is one of the best values in Real Estate Investing available today!
And...
Think and Grow Rich eBook
This book by Napoleon Hill is widely known as a personal and business development masterpiece. At Andrew Carnegie's request, Hill studied the characteristics of highly successful people for over 20 years and noticed certain "laws of success". This book is based on those principles and many, many successful individuals of our time credit their successes to this book.

What are you waiting for? Grab these Probate expert interviews now and be delighted to see how easy - and stress and risk free - it can be to build your wealth and realize your dream lifestyle.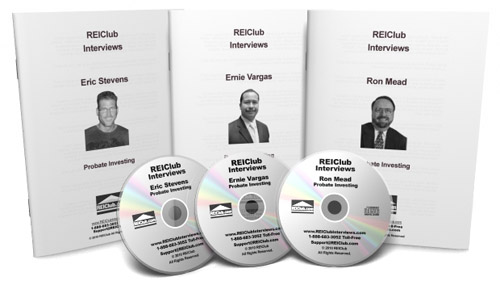 "Probate Interviews"
Good Investing,




P.S. We reserve the right to change or remove this offer at any time. Some 3 CD sets have sold previously at $97. Please note this is the lowest price at which this offer has ever been available and we make no promises this price will be available the next time you return.



"I have been wanting to learn more about probate investing for a while now, but was unsure how to get started. I purchased your interview series, and they came the day before I was leaving on vacation, so I threw the printed copies in my bag and read them while on vacation.

The interviews were great! They explained the probate process and terms, as well as giving me the information that I needed to get started using the probate process to find investments. I really liked the fact that there were three different investors, all working probate to find their investments, and each of them had their own unique style. It was especially encouraging to me to see that one investor had been successful in probate, even though he only puts less than 20 hours per week into it.

Thank you for putting these interviews together and making them available to those of us who want to learn more about probate investing."

Laurie Kaspar
Sacramento, CA

Yes, I Want These Interviews Now!

"REIClub has the most comprehensive resources available, and this series of interviews about Probate, were loaded with great content from three unique perspectives.

Ron Mead's KISS approach (only 4 steps) and his nuts and bolts, easy to follow instruction will motivate you to pursue this lucrative niche. He also gives away a ton of free information.

Eric Stevens is another pro who discloses 4 contract clauses he uses with his probate deals. These gems will give me a position of strength, while maintaining flexibility. Find out what he cautions you to never do, and why, when putting together a probate deal.

Ernie Vargas started out as a "boots on the ground" investor, knocking on doors, and brings his street experience to his probate investing strategy. Here's a found money tip: He may be the only licensed realtor of the group; if he can't get the sale, he tries to get the listing. Should you get your license? Worth considering.

Probate Investing as a stand-alone strategy can be very lucrative. For the wholesaler, it is a robust pipeline of motivated sellers."

Steven Treece
Peoria, AZ


"The Probate Interviews were important for my real estate sales business for several reasons. First, I was looking for a way to generate new leads and since my competition mostly goes after FSBOs or expired listings, I needed a way to differentiate what I do in my local market. Since I had taken a couple classes with Eric Stevens at a private real estate investing club I was part of in Southern California, I remembered his strategies for probate and how interesting this approach is. I figured I could look up Eric's probate strategies again to brush up, since it was a great way to get leads for investing, I believed it could also work for generating leads for listings as well.

It was actually pretty helpful to get 3 different points of views in the 3 interviews, since I took some points from each to create my own strategies. I took the information I found in the interviews and have been going to the courthouses where I have been finding leads which I am beginning to market to. I will have to see how this goes as I move forward, but I am achieving my goal of finding a unique strategy I can help people with in my local market."

Crystal Natsuko
Auburn, California